SpaceBi (www.SpaceBi.org) unofficially occupied the Asian Art Museum as a studio for developing new work from August 2011-August 2012. Access to the museum was through a "buying-in" process; I procured a high-level membership, institutionally referred to as the "Jade Circle" and gained the ability to invite 3 guests to enjoy the use of a private room and garden in a public institution. For one year, I manipulated this privilege to exhibit contemporary creative and critical projects that hoped to be a forum for alternative programming and dialog, re-imagining the use of this public space and collection and forges new connections between inherited cultural objects and creative practices today.
Placesettings, Johanna Poethig
Asian American K-oK, Derek Chung
Jews for Dim Sum, Leah Rosenberg
Mechanical Pencil Reproduction Society, Zina Al-Shukri
Free Paper Lucky Cats, Charlene Tan
Bathroom Guide to the Ceramics, Justin Hurty
15 minute Break, Nicole Harvey
Occupy the Asian, Torreya Cummings, Ace Lehner, Libby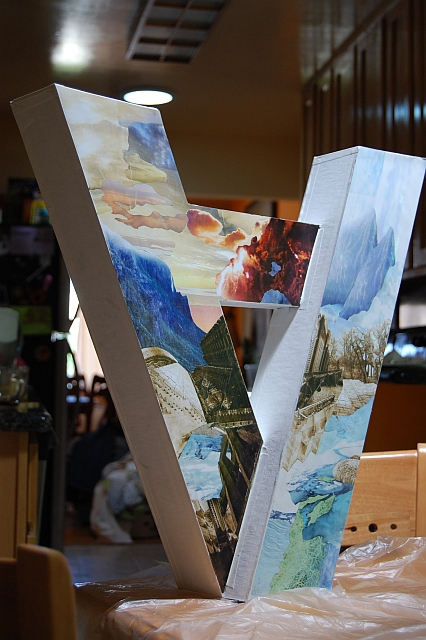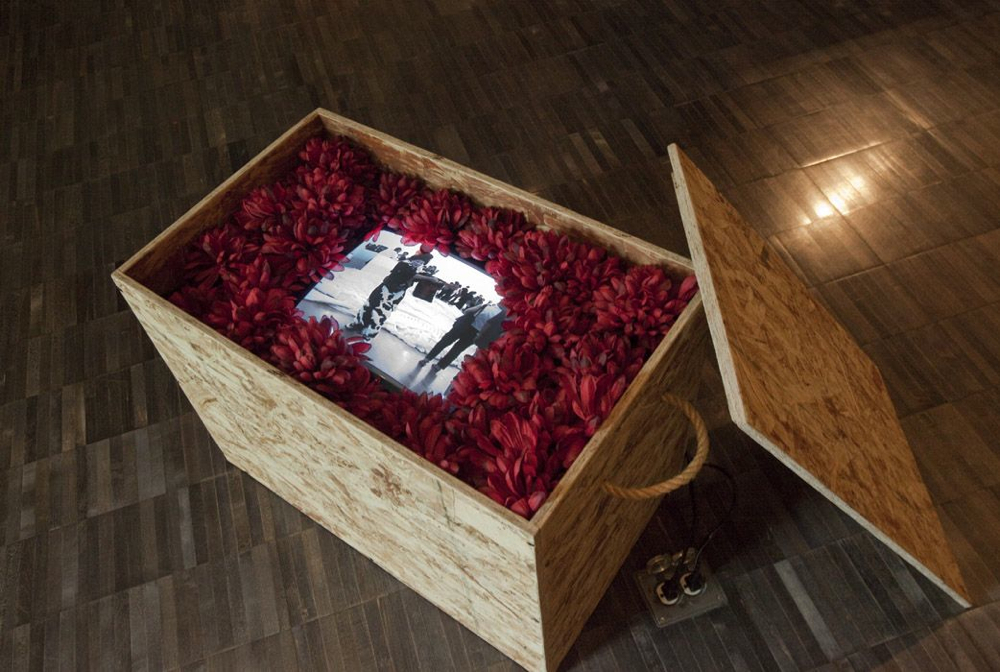 Matcha, Taking Up Space aka, this is not an exhibition at the Asian Art Museum
July 24, 2012
Participating Artists
Michael Namkung
Jose Navarrete and Debby Kajiyama
Adria Otte
Justin Hoover
Derek Chung
Amy Ho
Brandon Drew Holmes
Charlene Tan
Great Tortilla Conspiracy ℅ Scott Tsuchitani
Raymond Wong
Zina Al Shukri
Kim Anno
Ricardo Rivera
Jackie Im
Aaron harbour
Julie Chang
Tina Takemoto
Stephanie Syjuco
Juan Luna Avin
Pablo Cristi
Kathy Aoki
Erik Scollon
Kevin Chen
Johanna Poethig
Misa Inaoka
Ranu Mukherjee
The PROGRAM
PERFORMANCES
5:30 pm
ENSŌ by Michael Nankung (Front steps, outside the museum)
6:30 pm
TATHAGATA (THE PROCESS SUTRA) by Justin Hoover (Main staircase)
7:30 pm
ENSŌ by Michael Nankung Ground Floor (South Court)
8:30 pm
FOUND AND LOST by Jose Navarrete and Debby Kaijiyama with Adria Otte Ground Floor (North Court)
DOCENT TOURS AND OTHER GALLERY EXPERIENCES
6:30 pm
PHANTOMS OF ASIA DOCENT TOUR Ground Floor (South Court, meet at the information desk)
6:45 pm
MUSEUM STORE MINI SOLO EXHIBITIONS DOCENT TOUR Ground Floor (South Court, meet at the information desk)
7:00 pm
THE MUSEUM: HOMAGE TO WYLODEAN VAUGHN GOODEN by Brandon Drew Holmes
Ground Floor (South Court, meet at the information desk)
8:00 pm
THE CLASS: NOTES ON THE CONTEMPORARY FOR COLLECTION (AFTER ARAYA RADSJARMREARNSOOK) by Jackie Im and Aaron Harbour
ALL NIGHT
ENTRANCE (Ground Floor)
MEMOIRS OF BJÖRK-GEISHA Video by Tina Takemoto and Jennifer Parker, Intervention at SFMOMA, 2006
NORTH COURT (Ground Floor)
ASIAN AMERICAN KARAOKE PROJECT by Derek Chung (with music by The Invisible Cities, Bantercut and Goh Nakamura)
SUPER DISCO CHINO by Juan Luna-Avin
CAFÉ ASIA (Ground Floor)
FLICKERING OBJECTS OF ASIA by Kim Anno
MUSEUM STORE (Ground Floor)
MUSEUM STORE MINI SOLO EXHIBITIONS
The Asian Art Museum store features mini exhibitions by eleven local artists
SAMSUNG HALL (Second Floor)
DJ VIN SOL
YOU ARE WHAT YOU EAT by Amy Ho
FANTASTICAL LANDSCAPE COLLAGES by Raymond Wong
DRAWING A SO-CALLED ASIAN DRAWING YOU by Zina Al-Shukri
THE GREAT TORTILLA CONSPIRACY with Scott Tsuchitani
LOGGIA (Second Floor)
SELF, TIME, REFLECT by Ricardo C. Rivera
ART AND COMMUNITY TABLES Asian Contemporary Art Consortium, Chinese Cultural Center, AsteriskSF, API Cultural Center, Filipino American Arts Exposition, Nihomachi Street Fair, Retrofit Republic, and Hyphen Magazine
Short Description
PERFORMANCES
Ensō by Michael Namkung
An interdisciplinary artist drawing from the language of sports training and athletic performance, Michael Namkung will perform a physical drawing of an Ensō. For this Matcha, the work will be performed twice in two different locations and under different conditions, once outside in the front of the museum and once inside the museum until the performer succumbs to physical exhaustion.
Self, Time, Reflect by Ricardo C. Rivera
Rivera captures images of "himself" in and around the museum using a specially modified flat-bed scanner. Wearing a reflective mylar suit, the artist will reflect visible light with photons bouncing off of artifacts, artworks, patrons, and the architecture, in essence remove himself from the scene, become invisible while abstracting the surrounding environment.
Tathagata (The Process Sutra) by Justin Hoover
Tathagata is a paradoxical name for the Buddha that means both one who has thus gone (tathā-gata) and one who has thus come (tathā-āgata). This performance is about coming and going and the struggle inherent with spiritual practice, here transmuted to physical Sisyphean labor.
Found and Lost by Jose Navarrete, Debby Kajiyama, and Adria Otte
Lost and Found is a dance performance created and performed by Navarrete and Kajiyama and is composed within the confines of a sculptural costume by Liz Harvey. Live musical accompaniment performed by Adria Otte.
DOCENT TOURS AND OTHER GALLERY EXPERIENCES
The Class: Notes on the Contemporary for the Collection (after Araya Radsjarmrearnsook) by Jackie Im and Aaron Harbour
This performance/lecture considers definitions of the Contemporary and will be presented using the Asian Art Museum's collection, in an effort to invert the museum's institutional voice. The lecture will be in part culled from responses to a questionnaire by Hal Foster originally printed in October magazine as well as an expanded/revised version of this questionnaire initiated by the Asia Art Archive to address the "particular perspectives in and of Asia," published in Asia Art Archive's online journal Field Notes.
The Museum: Homage to Wylodean Vaughn Gooden by Brandon Drew Holmes
This guided tour of the museum will be accompanied by poets Janey Smith and Tom Comitta. "In my childhood I spent a lot of time with my grandmother. A poet and art lover, she placed her love and loves into me. The museum was the center of our world… all my best memories come from there and involve her."
Museum Store Mini Solo Exhibitions Docent Tours
Asian Art Museum docent Lydia Zane gives visitors an up close and personal discussion-led tour of the 11 mini solo exhibitions in the Museum Store.
ALL NIGHT FUN
Drawing a So-Called Asian Drawing You by Zina Al-Shukri
Would you like a portrait of yourself created by a very talented artist? Well, you may have to work for it. Take home a portrait of yourself, but there is a catch, you have to draw the artist drawing you. Stick figures welcome.
Fantastical Landscape Collages by Raymond Wong
Visitors will have the opportunity to create their own collages using old brochures, catalogs and posters provided by the Asian Art Museum. This activity will use the Phantoms of Asia subtext: "contemporary awakens the past" to guide the creation of new work!
Asian American Karaoke Project by Derek Chung
Sing along to unique karaoke videos featuring music by independent Asian American musicians who are not commonly represented in karaoke rooms. Each video uses footage from the filmmaker's childhood, growing up in an immigrant family in Ohio, which provides a parallel narrative about the experience of engaging with mainstream American society. The project will expand and continue, by collecting additional videos by other filmmakers, to create a library of karaoke videos by and for Asian Americans.
Super Disco Chino by Juan Luna-Avin
Classic Iberoamerican pop music interpretations of Asian cultures (1957 – 2008) is a compilation of well-known and obscure recordings performed by singers and bands from Spanish-speaking countries that derive inspiration from a variety of Asian cultures.
The Great Tortilla Conspiracy with Special Guest Artist Scott Tsuchitani
The Great Tortilla Conspiracy, a collective based on food, has asked master of disguise Scott Tsuchitani to join them in creating a Pop-Asian-Mexican-Fusion-Food-Art for the 21st Century… somehow involving Hoisin Sauce and kimchi.
Flickering Objects of Asia by Kim Anno
In this video, objects from the collection of Asian Art Museum flickering in their new-found liberation from their plexi-box prisons. This fervent film captures the reflection of weapons, fierce aspect statues, and Buddha's in Mylar surfaces.
You Are What You Eat by Amy Ho
A collection of food costumes are available for visitors to try on, stage, and take photos. Additional costumes will be wandering the grounds of the museum during the length of the event, keep your eyes peeled.
Fortune Rain by Charlene Tan
In this surprising sculpture Tan explores the mythology of the dragon, serving as a symbol of strength prosperity, and the binary of good and evil.
Memoirs of Bjork-Geisha Video by Tina Takemoto and Jennifer Parker
Takemoto and Parker presented this guerilla performance during the opening ofMatthew Barney: Drawing Restraint at SFMOMA in 2006. The exhibition featured works depicting Barney and Björk as "occidental guests" on a Japanese whaling ship where they dress in elaborate fur kimonos, participate in tea ceremony, erotically slice each other's legs off, and transform into whales. In response, Takemoto (aka Björk-Geisha) and Parker (aka Matthew-Whaler) offered unsolicited performances of fan dancing, lip synching, samurai whaling, and chopstick hara-kiri amidst crowds of confused viewers and gallery guards who couldn't determine whether they were part of the hired entertainment or not.
Museum Store Mini Solo Exhibitions
The Asian Art Museum store features mini exhibitions by eleven local artists including Kathy Aoki, Julie Chang, Kevin Chen, Pablo Cristi, Misako Inaoka, Juan Luna-Avin, Ranu Mukherjee, Johanna Poethig, Erik Scollon, Stephanie Syjuco, and Tina Takemoto.